Please click on thumbnails for larger view, then
click you back button to get back to gallery
Thank You.

1.Old Spring Farm B&B combining Appaloosa with a farm stay.

2.Sin-o-man T-1634 with 15 year old Suzanne, her first appaloosa.

3.Breakfast room at Old Spring Farm B&B with oil painding done by Suzanne of Red Eagles Guild of the 1001 by Red Eagle - Her First Red Eagle Stallion

4.Whata Dreamfinder at the time of purcharse in 1994

5.Whata Dreamfinder at the time of purchase in 1994

6.Suzanne & Whata Dreamfinder as a 3 year old.

7.Whata Dreamfinder 1993 Stallion by Hall of famers Dreamfinder x Starza's Pine

8. Jose & Whata Dreamfinder in 1996

9.Enduro 1973 stallion by Supreme Champion Diamond Duro x Red Eagle bred mare "Christina" with Bill Waterman at 1976 National Appaloosa Show

10. 1993 Stallion Whata Dreamfinder x Starza's Pine

11.Peacock's F-2190 Miraklman by Red Eagle's Peacock in 1972 at 13 years of age Grandsire of Starza's Pine, dam of Whata Dreamfinder

12.Miraklmaid by Peacock's Miraklman with Suzanne in 1976

13. Red Eagles Peacock - Old Spring Farm's Senior Stallion 1956 National Champion - The most famous Ambassador of the breed. Mt. Ranier In the Background.

14. 1956 National Champion Red Eagle's Peacock 1996 Hall of Fame Inductee A breed Ambassador Senior Sire at Old Spring Farm

15. Red Eagles Peacock taket at Opportunit 1973 in Columbus OH

16. Broodmares at Old Spring Farm

17. Modern day Red Eagle Mares left: Wahta Dream Baby by Whata Dreamfinder. right: Heaven's Golden Eagle

18. Colt by Whata Dreamfinder

19. Appaloosa Broodmare with What Dreamfinder filly

20. New Beginnings on Old Spring Farm

21 Filly By Whata Dreamfinder
OLD SPRING FARM APPALOOSAS
Suzanne Pabst relocated Old Spring Farm from Connecticut to Virginia in 1983 in continuance of breeding a spotted horse known as the Appaloosa. While in Connecticut, Old Spring Farm was the largest breeder of registered Appaloosas, maintaining between 25-40 head from 1965-1977. Her colorful Appaloosas were shown as far west as Oklahoma. Mares came from 26 states to be bred to her popular sire, Red Eagle's Peacock, one of the most famous ambassadors the breed has ever known. "I'd like to think I carried on where Clause Thompson (founder of the Appaloosa Horse Club in 1939 and breeder of Red Eagle's Peacock) left off", states Suzanne.
Peacock, the 1956 National Champion Appaloosa Stallion arrived by Flying Tiger to New York's JFK International in 1973. He remained senior sire at Old Spring Farm until his death in 1977 at 24 years of age. Peacock's seven owners of distinction included Carroll Shelby who developed the Shelby Cobra and Mustang for Ford Motor Company. "No one really 'owned' Peacock", said Suzanne of his universal appeal. He was breed representative in Compton's Encyclopedia.
His crowning achievement came in 1996 when he became the 30th. inductee into the Appaloosa Hall of Fame In its March 13, 1977 article "A Famed Horse
For All Seasons", the Roanoke Times documented Peacock's award. To this day, Red Eagle's Peacock is the standard of excellence for many breeders carrying on his line.
The farm's current stallion, Whata Dreamfinder, is a descendent of Red Eagle's Peacock. Both his sire and dam are in the Appaloosa Hall of Fame. A smaller but still serious breeding program produces one to three foals annually to carry on the farm name. Suzanne has been a part of the breeds growth since 1956, when at 15 years of age she purchased her first Appaloosa, Sin-O-Man, when there were less than 2000 registered. In the years since, more than 600,000 Appaloosas have been registered. Suzanne was recognized for her dedication to the breed in the July 2004 Appaloosa Journal article APPALOOSA ICON. Her extensive articles on the breed appeared in the Appaloosa News, the breed journal for the Appaloosa Horse, during the 1960's and '70's. She contributed content to Farnam's book, KNOW THE APPALOOSA HORSE, and the periodical, THE APPY.
ABOUT THE AUTHOR
Since owning my first Appaloosa in 1956, I have gone from having to explain what an Appaloosa is, to seeing it defined in Webster's Collegiate Dictionary. I attended Temple University, Ambler Campus in 1959-60 because it offered Horse Husbandry, and satisfied other interests graduating in 1967 with a BS in Art Education from the University of Bridgeport in Bridgeport, Connecticut. Professional Workshops in Graphics and Free-Lance Writing in Connecticut and Virginia extended my skills for I knew one day I would direct my learning toward promoting the Appaloosa horse.
I organized the Red Eagle Breeder's Association which was active from 1969-1977, the year Red Eagle's Peacock died, and was co-founder of the Connecticut Appaloosa Association with Briggs Cunningham in 1970. I was recommended by George Hatley to author Farnum's book, Know the Appaloosa Horse, to which I contributed information.'
My article on the subject of producing better horses, first published in The Appy Newspaper, was well received as were a diversity of articles which have appeared in the Appaloosa News and Horseman Magazine. My ongoing interest has been studying genetics and developing breeding theories that produce predictable results with an unpredictable breed.
I had the good fortune to travel the country at a time when some of the greatest Appaloosa and Quarter Horse Stallions of their day were alive and especially enjoyed the time spent with several of their owners sharing both opinions and camaraderie * There was so much that could be learned from breeders who singularly were responsible for the development of bloodlines of the past. I hate the thought that one day their efforts may be lost to posterity.
I have particularly enjoyed writing articles on noteworthy Appaloosas to make their importance known to new generations of Appaloosa enthusiasts. If I can, in some small way, keep the memories of these horses alive, then I feel I have succeeded in achieving immortality for them.
Suzanne V. Pabst Charity, Virginia
Appaloosa Journal Article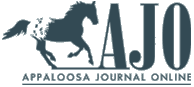 http://www.appaloosamuseum.org/History/RedEagle.html
http://www.appaloosajournal.com/magazine/bloodlines/archives/redeagles.html
http://barnlot.tripod.com/redeaglenarr.html
http://barnlot.tripod.com/redeagledesc.html
Appaloosas For Sale Horses Appaloosa West Virginia