OLD SPRING FARM
GIFTS
SUZANNE'S CUSTOM PILLOWS & TRAVEL TOTE BAGS
Custom throw pillows and travel totes with pillows inside are on display in the Audubon
Breakfast Room at OLD SPRING FARM BED & BREAKFAST. Designed by Innkeeper,
Suzanne Pabst, each pillow's inspiration comes from fabric remnants from area
textile houses. Each pillow and tote bag is pieced together on an old treadle sewing
machine purchased for $5.00 in the 1960's.
"I enjoy the process of designing as much as assembling each pillow on the treadle machine. I have my mother's electric sewing machine, but it wouldn't be satisfying making pillows on that," says Suzanne.
There is a lot of love that goes into the creation of each pillow. Each is unique and no two are alike unless requested. All have "envelope" closures so the insert can be removed and the pillow cover cleaned. Each pillow is unique and considered a work of art.
"I look forward to the winter months, when the gardens are put to bed, for the time to sew.
Doubling as decor in the restaurant area, next to shelves of material cut-out and readied to
become pillows, is the treadle sewing machine on which the Bed & Breakfast curtains
were made as well. Sewing is a passion." says Suzanne of her craft.
| | |
| --- | --- |
| OTHER GIFTS | |
Woolwine Apple Butter - made locally each October for over 20 years as a community fund-raiser for the Woolwine, VA Fire Department. A "must" to take home & support our community. Limited Quantities - see recipe for Woolwine Apple Butter Cake in recipe section.

Jams - Homemade from fruit grown on the farm or locally.
Single fruit - $3.50 8 oz.
Blend - $4.50 8 oz
| | |
| --- | --- |
| | Chutneys - Blends of fruits and/or vegetables and spices. A delectable condiment for meat, chicken or fish. Check out recipe for Mountain Jam (Tomato Chutney) in recipe section.Praised in Gourmet Magazine, August 2003. |
| | Sourwood Honey - Local, considered the best in the Blue Ridge! |
| | CD's by LOST AND FOUND Bluegrass group - a next door neighbor. |
| | Local crafts including bird houses. |
| | Fleece hats by Suzanne - Warm & washable. |
| | |
| --- | --- |
| | Note cards - Various themes including wonderful photos of cats. By photographer & neighbor, Roy Jones. |



TAKE HOME A REMEMBRANCE OF YOUR STAY AT OLD SPRING FARM BED & BREAKFAST!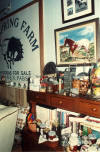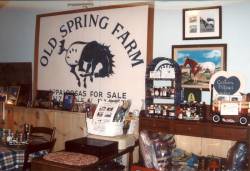 Jams made from farm raised-fruit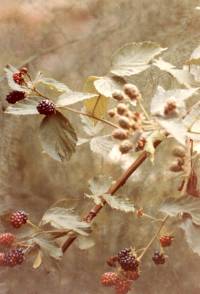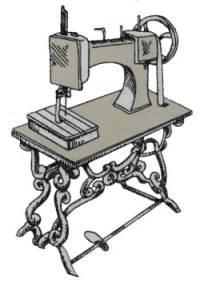 Jam, Jellies, Preservers and Chutneys home made from fruits and vegtables grown locally or right at Old Spring Farm.