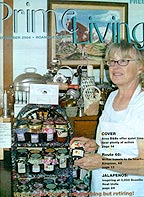 We made Prime Livings Front Cover!
Located in Blue Ridge Wine Country, where traditions linger, 50 miles south of Roanoke. Old Spring Farm Bed and Breakfast is 15 miles from Floyd where one light controls the ebb and flow.
31 miles of the 469 mile Blue Ridge Parkway transverse Floyd County and converge with designated mountain music, birding, Civil War, craft and wine trails.
Experience the time-travel of flat foot dancing at Floyd's Friday Night Bluegrass Jamboree.
Click Here

for a complete list of Area Attractions

• Floyd Fest - Outdoor 7 Stage Music Festival
• Villa Appalaccia Winery - Italian Varietals & Special Events
• Chateau Morrisette Winery & Festivals
• Blue Ridge Institute & Folklife Festival-Ferrum College
• Martinsville Speedway - Nascar Races
• Virginia Tech - Football Games and Graduation