Rosemary Lamb Chops - Lamb is farm-raised at Old Spring Farm
1/4 Cup olive oil
1/4 Cup balsamic vinegar
2 Tablespoons chopped fresh rosemary (or 2 tsp dried)
2 Tablespoons fresh lime juice
1/4 teaspoon coarsely ground black pepper or Montreal Steak seasoning
1/2 teaspoon kosher salt, or more to taste
4 cloves garlic, chopped or more to taste
4 green onions sliced
8 lamb loin or rib chops
Combine: all ingredients, except the lamb, in a large zipper plastic bag,
Add lamb chops; turn to coat.  Seal bag and refrigerate overnight, turning
occasionally.
The next day, about 45 minutes prior to grilling or broiling, remove lamb
from the refrigerator and bring to room temperature.  Preheat grill or broiler.
Remove chops from bag; discard marinade.  Grill or broil chops for
41/2 - 5 minutes per side for medium-rare or 6 minutes each side for medium.<![if !supportEmptyParas]> <![endif]>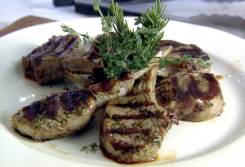 Rosemary Lamb Chops
<![if !supportEmptyParas]> <![endif]>Locally grown Stayman Winesap Apples
Woolwine Apple Butter Cake - The October Apple Butter Festival is an annual community
event in Woolwine, VA   8 miles from Old Spring Farm
2 cups all purpose flour
1/2 Cup cocoa powder divided (Nestle unsweetened cocoa)
1 tsp baking powder
1 tsp baking soda
1/2 tsp salt
1/2 Cup margarine (Blue Bonnet)
1 1/2 Cups packed light brown sugar
2 eggs at room temperature
1 1/2 Cups apple butter
3/4 cups hot strong coffee divided
1 1/2 Cup raisins
3/4 Cup chopped walnuts
<![if !supportEmptyParas]> <![endif]>
Preheat oven to 350.  Grease and flour 6 cup bundt pan.  Sift flour, 1/4 cup cocoa,
baking powder, baking soda and salt. Cream margarine with brown sugar until fluffy.
With mixer on medium, add 1 egg beating just enough to incorporate.  Repeat with 2nd egg.
With mixer on low, add flour mixture by thirds alternating with apple butter. 
With mixer on medium, add 1/2 cup hot coffee.  Beat to combine approximately
30 seconds.  Fold in raisins and walnuts. 
Pour batter into prepared bundt pan.  Place on middle rack in center of oven.
Check cake after 45 minutes.  Continue to bake until toothpick inserted in crack comes
out clean, cake will average 60 minutes to complete.  Remove from oven and cool slightly
about 20 minutes.  Invert onto a wire rack to cool completely.
<![if !supportEmptyParas]> <![endif]>
Glaze
2 Cups confectionery sugar
1/4 Cup reserved cocoa powder
1/4 Cup reserved hot coffee
1 Tablespoon butter
<![if !supportEmptyParas]> <![endif]>
Sift sugar and cocoa, add hot coffee and butter.  Beat until smooth.
Frost top of cake.  For thinner glaze add 1 tablespoon heavy cream to mixture.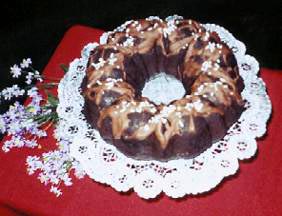 Woolwine Apple Butter Cake
BLUEBARB PIE FROM START TO FINISH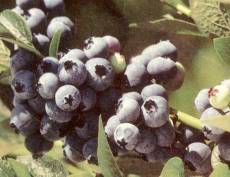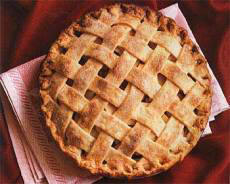 Blubarb Pie
<![if !supportEmptyParas]> <![endif]>Blubarb Pie - an excerpt from COMING HOME - by Suzanne V. Pabst
                                                                                  August 8, 1980
<![if !supportEmptyParas]> <![endif]>Growing in one corner of dad's garden is what the old timer's call a "pie plant",
or rhubarb.  My Connecticut rhubarb had become woody before I left for the lake, but here (Minnesota)
in early August, it is still juicy with shiny crimson stalks.<![if !supportEmptyParas]> <![endif]>
Early one day, dad handed me a bunch as I stood in the kitchen, and said "I'd like you to
make a blueberry-rhubarb pie."  I accepted his challenge although I had never heard of this
intriguing combination before.  To make the pie, I added a sugar mixture consisting of
1 1/3 cups of sugar, 2 Tablespoons of tapioca, 1 teaspoon of cinnamon, 1/2 teaspoon each
of nutmeg and salt to 4 cups of prepared rhubarb (cut into 1 inch pieces), and 2 cups of
blueberries.  I stirred in one beaten egg before pouring the entire mixture into an unbaked
pie shell dotted it with butter.  A lattice top crust crowned my deep purple creation.  When
the pie was nicely browned and the juices bubbling, I removed it from the oven to cool.
The kitchen smelled oh, so good.<![if !supportEmptyParas]> <![endif]>
Dinner was planned in anticipation of our dessert that night.  We had mom's homemade pea
soup with soda crackers and cheddar cheese from a Wisconsin cheese factory.  No one
asked for seconds as we eagerly anticipated the final course.
In silence, we watched dad's reaction to the first bite of "his" pie.  He has a habit of smacking
his lips if he relishes a taste, and with smacking that I know was louder than usual,
dad pronounced this pie to be as good as mom's lemon meringue.  Considering the company
in which I was included, I took his remark to be a compliment of the highest order.
"Blubarb" pie has become a staple in my repertoire ever since.  We managed to make the pie
last one more day and a la mode with vanilla, it was again superb.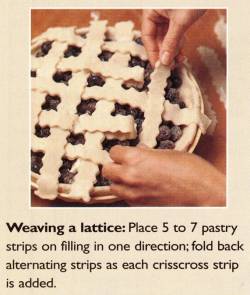 <![if !supportEmptyParas]> <![endif]>Mexican Quiche
This recipe is tried and true.  It can be made ahead and frozen making it perfect for
large groups.  Doubles or triples easily.  It may also be presented in individual
ramikins or a pie tin.
1/4 Cup all purpose flour
1/4 teaspoon salt
1/4 Cup melted butter or margarine
4 eggs beaten
1 Cup cottage cheese
1- 4 oz. can chopped chilis, drained
1 - 4 oz. jar of pimentos
2 Cups Monterey Jack or cheddar cheese shredded
<![if !supportEmptyParas]> <![endif]>·  Combine flour, salt, butter in large bowl.
·  Add next 5 ingredients, mix well.
·  Pour mixture into lightly greased 10" x 6" x 2" baking dish.
·  Bake @ 375 degrees 30 minutes or until nicely browned
Mexican Quiche
Serves 4 to 6<![if !supportEmptyParas]> <![endif]>
"P.S. request the Mexican Quiche with tomato chutney for breakfast... it's worth it!"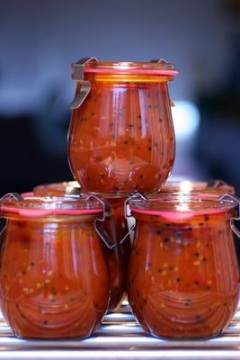 Mountain Jam (Tomato Chutney)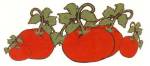 Mountain Jam - Spiced Tomato Chutney
<![if !supportEmptyParas]> <![endif]>Makes about 2 cups
Active time: 45 min. Start to finish: 1 week (includes allowing flavors to develop)
Piquant and full of spices, the chutney is an unexpected, pleasantly bright condiment
for scrambled eggs.
12 garlic cloves
1 (2 inch) piece fresh ginger, peeled and coarsely chopped
1 1/4 cups red-wine vinegar
3 Tablespoons extra-virgin olive oil
1/4 teaspoon brown mustard seeds
6 fenugreek seeds (available at Indian markets & specialty foods shops)
1/4 teaspoon cumin seeds
1/4 teaspoon fennel seeds
1/8 teaspoon nigella seeds (sometimes called black onion seeds or kalonji available at
Middle Eastern markets or by mail order from Kalustyan's 800-352-3451)
2 lb tomatoes, peeled, seeded and chopped
3/4 Cup sugar
1 1/2 teaspoons salt
1/4 teaspoon cayenne
<![if !supportEmptyParas]> <![endif]>
· Puree garlic, ginger, and 1/2 Cup vinegar in blender.
· Heat oil in a 2 to 3- quart heavy saucepan over moderately high heat until hot but not
smoking and add mustard seeds.
· When seeds begin to pop, stir in fenugreek, cumin, fennel and nigella.
· Add garlic mixture, then cook over moderate heat, stirring, 1 minute.
· Add tomatoes (with juice), remaining 3/4 Cup vinegar, sugar, salt and cayenne and
bring to boil.
· Reduce heat and simmer chutney, uncovered, stirring occasionally, until thickened,
1 1/2 to 2 hours (lower heat if necessary).
· Transfer chutney to a bowl. Cool, uncovered, then chill, covered, at least 1 week
to allow flavors to develop.
<![if !supportEmptyParas]> <![endif]>
· Chutney keeps, chilled in an airtight container, 1 month.
<![if !supportEmptyParas]> <![endif]>GOURMET MAGAZINE - AUGUST 2003
<![if !supportEmptyParas]> <![endif]>PATCHWORK PILGRIMAGE - by Barbara Lazear Ascher
"Breakfast at the rustic 1883 house means eggs from Pabst's chickens, vegetables
from her garden, jams from her fruit trees, and spicy chutney (or 'mountain jam,' as they call it) unlike any I've tasted."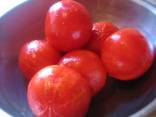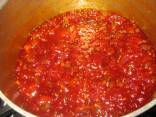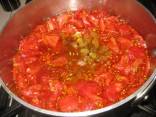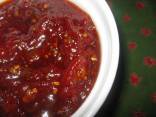 <![if !supportEmptyParas]> <![endif]>
<![if !supportEmptyParas]> <![endif]>